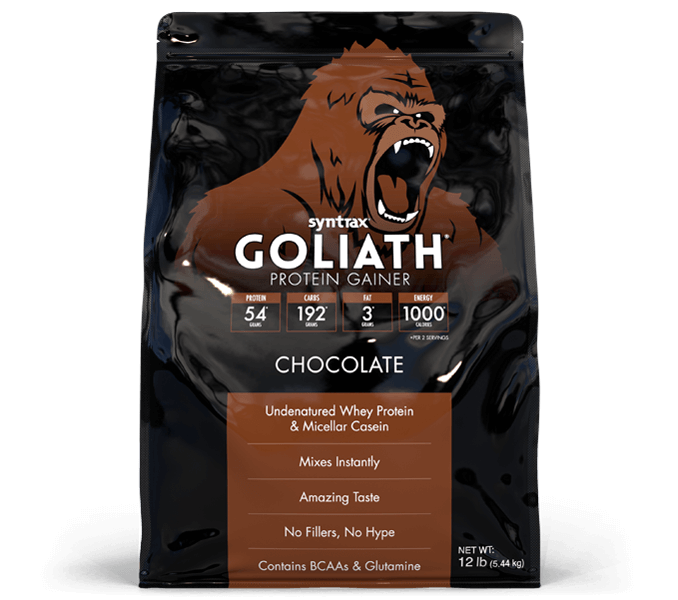 Calories
♦
per 2 servings
*
product values may vary by flavor
Contains BCAA
s
& Glutamine
Syntrax® created Goliath® in response to the cry for a superior quality protein gainer at the best price possible. Instead of sugars, fats and low quality proteins, Goliath® predominantly contains complex carbohydrates and a mixture of the best proteins on the market. Goliath® mixes instantly with a spoon, tastes great and features a simple but powerful formula, maximized for promoting muscle growth and recovery. This combination produces a foundation for a protein gainer that towers above the rest.

Recognizing that protein is imperative for not only basic health, but also for any kind of muscle repair, recovery or growth, Syntrax® formulated Goliath® with a matrix of different proteins to ensure maximum gains in the shortest time possible. Whey protein is a fast-metabolized protein considered to be the gold standard for supporting the body's anabolic and immune processes. On the other hand, micellar casein is a slow-metabolized protein that enhances satiety and delivers a steady stream of amino acids to vital muscle tissue.

Unlike other meal replacements and gainers that rely heavily on fats to increase caloric density, Goliath® contains the least amount of fat possible. Staying away from simple sugars, Goliath® utilizes only long-chain carbohydrates derived from nutritious starches. These complex carbohydrates supply the foundational calories that a person requires for increased lean body mass and whole body recovery. Even though this approach costs more, it is a small price to pay for better health and better results.

As with all Syntrax® products, Goliath® includes scrumptious flavors with a velvety smooth texture designed to make a protein gainer pleasurable to drink. All flavors of Goliath® feature a delicious, creamy taste and dissolve instantly whether mixing with a spoon or shaker cup. With Goliath®, you will enjoy each and every sip without the usual clumps that plague other gainers in the industry.

Syntrax® has engineered a product that causes other gainers to tremble in the shadows . . . a true Goliath® amongst the ordinary.

Delicious, creamy flavors